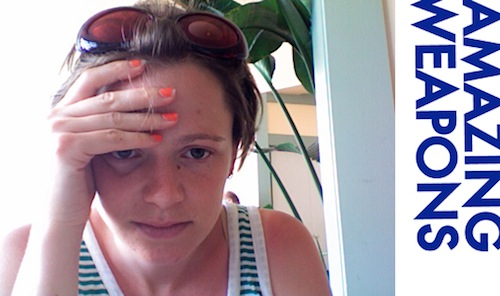 Brandon Brown has reviewed Marie Buck's new chapbook, Amazing Weapons, at Jacket2. We never tire of chapbooks. Besides hearing someone read in person, a chapbook is our favorite way to encounter new work. Scary Topiary Press, edited by Robert Dewhurst, has published three chapbooks thus far: Arthur Echo, by CAConrad and Thom Donovan, Flushing Meadows, by Todd Colby, and Buck's Amazing Weapons.
Marie Buck has been actively thinking through and using social media to compose poems for sometime now, which is pretty exciting. In the preface to her chapbook Life & Style (Beard of Bees, 2007), she writes:
One of my aims in writing these poems was to situate a gendered, lyrical subjectivity within the language of MySpace, a site that intrigues me in that its form dictates so overtly as to nearly narrate the continual collapse of all forms of identity into identities of commodification & commodity consumption. The content of most of the poems is collaged from MySpace, and the forms come from a variety of authors: Emily Dickinson, Arthur Rimbaud, Thomas Wyatt, William Butler Yeats, the Gawain poet, and Charles Baudelaire. I found text to collage by putting phrases from the source poems into the MySpace search function and snagging language from the profiles that popped up.
Brandon Brown's review of Amazing Weapons suggests that readers can expect an equally lively lyricism subjected to "the nightmare of contemporary ecstasy." He writes:
It occurs to me that so much of the contemporary writing I'm most excited about, and this absolutely includes Marie Buck's work and Amazing Weapons, is the particular affective orientation it occupies vis-a-vis catastrophic current conditions. And what I mean is that this writing tends to refuse stable, coherent modes of affective relation — including the stable, coherent modes that the avant-garde appropriates as its own. Instead, this writing articulates the nightmare of contemporary ecstasy (especially as it cathects to pop culture) and likewise the glee adjacent to the most abject, its comfort zone for paradox is vast.
We agree—and eagerly await future publications from Scary Topiary Press.