My body belongs to me;
to others its mastery.
It's become a kind of tradition over the past several years for Poetry to publish an annual translation issue. This year we did something a bit different; our June issue is devoted entirely to landays—oral folk couplets that have been composed by and circulated among Pashtun women for centuries. Eliza Griswold, the poet and journalist who gathered the poems, provides notes on the the couplets' references, their history, and the women who recited them. The landays are accompanied by photographs taken by Seamus Murphy over several visits to Afghanistan between November 1994 and December 2012.
Since this is a particularly special issue, it appears in a unique format on our web site, thanks to the wonderful work of our web producer, Nuria. Check out the poems, photographs, and commentary here.
Daughter, in America the river isn't wet.
Young girls learn to fill their jugs on the internet.
While we're excited about the issue itself, we thought a blog post might be useful to highlight all the related material you can find online. If, for example, you want to know what landays sound like in the original Pashto, you can hear them recited in Seamus's film Snakes, which also gives greater context to his photographs. To learn more about how Eliza and Seamus carried out this "investigative poetry," and to hear some of their favorite poems, listen to this month's magazine podcast.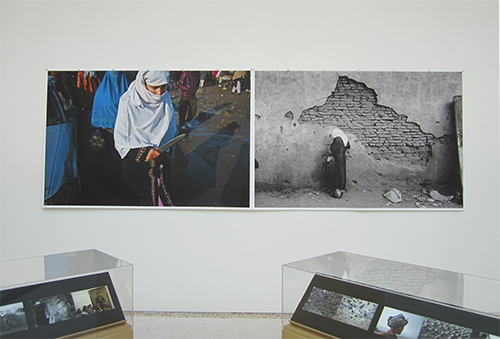 Living in Chicago or planning a visit? Be sure to stop by our building. Our latest exhibition, Shame Every Rose, just opened. It presents Seamus Murphy's photographs in pairs resembling the two-line couplets. Many of the images do not appear in the magazine or online, so you'll want to see them in person.
O darling, you're American in my eyes.
You are guilty; I apologize.
Wondering what story lies behind the photograph of the woman with the knife? We wondered, too! Seamus talks about the circumstances of that shot at the end of this narrated slideshow on the PBS web site.
Eliza Griswold explains how landays allow women "to be very outspoken, but not to own the authorship of that statement," and much more, in an interview with the PBS NewsHour.
That's probably enough to get you through the month. Keep your eyes open next spring when Farrar, Straus & Giroux will publish these poems in I Am the Beggar of the World: Landays from Contemporary Afghanistan.