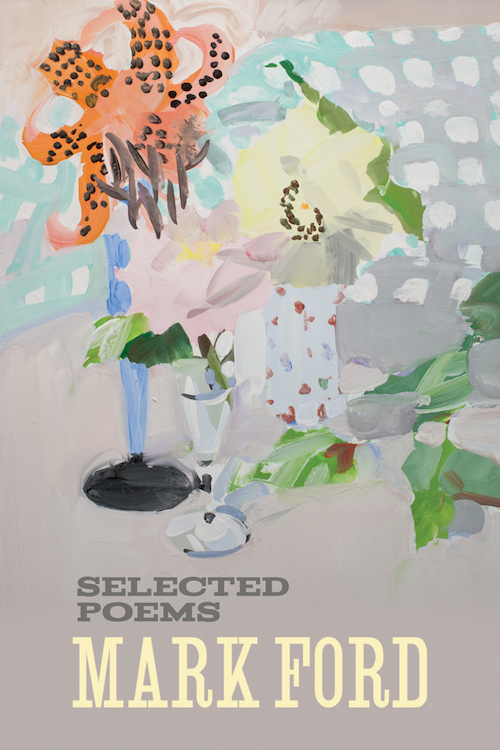 For the Boston Review Blog, Scott Bartley reviews Mark Ford's Selected Poems, just out from one of our favorite presses, Coffee House. Ford's the author of a great biography of Raymond Roussel, and has edited books of poetry for both O'Hara and Ashbery. It's good to see his own work explored in depth. An excerpt from the review:
The United States, in fact, is a prominent theme in Ford's first volume, Landlocked (1992). When an interviewer noted as much, Ford responded that "the America of those early poems is an America of the mind." The comment deserves some explanation. Though Ford studied at Harvard as a Kennedy scholar, he is no American. He sees the country as an expatriate does. Recall the quintessentially British Thom Gunn landing stateside, donning his leather jacket, and turning on, tuning in, and dropping out to Jefferson Airplane. Like Gunn, Ford taps into an America of the mind that non-Americans prove themselves more capable of accessing; he recovers the iconic power of those symbols that for most of us born here are encrusted in cliché. In Landlocked's title poem, for example, an unspecified "she" sends Ford "a postcard from somewhere / In Missouri, and then again from Amarillo, / Texas. She said she thought she'd make it / All the way to sunshine California." Selected Poems also reprints "General Knowledge," where

Atlanta emerged from the ribbed, red soil
Of Georgia; it now has
One of the busiest airports in America

From there we flew to the cradling arms
Of New Orleans; here, where the Mississippi
Ends, perspiring jazz musicians like bulls lock horns.

What is notable here is not only the distinctive geographical and climactic features—red soil, sunshine, the great branching river—but also the melodic litany of place names the poems delight in unfurling. The expanses evoked by the south and west are paired with the rolling expanses of the words themselves. ("Vermont" just wouldn't work.) In this way, Ford has taken a line from Wallace Stevens—"I placed a jar in Tennessee"—and pushed its effect to the most extreme limits. To Stevens, the Harvard-educated Hartford insurance lawyer, Tennessee may as well have been a foreign country, too: he likely chose the state not just because he visited it but also because its name has a musical rurality—the unstressed valley in the middle of it—that contrasts perfectly with the artifice of the manmade monosyllabic "jar." Ford helps American readers take pleasure in seeing with fresh eyes a country they know too well to notice.
Read the full review, if you please, at the BR Blog.