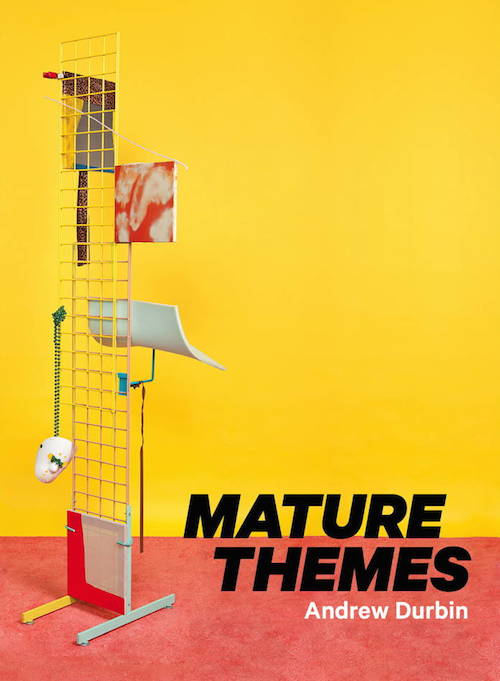 Andrew Durbin, author of the recently published Mature Themes (Nightboat 2014), is interviewed at Lambda Literary! Durbin talks about the original book design (his name and title are on the back), his interests leading up to the writing (including Lucy Ives's essay on "disingenuity," which she wrote here at Harriet!), how and when he writes, The Beach, Ciara, and more. Here's a bit from Durbin on the poetry and writing that's had an effect:
As I read it, Mature Themes is a book of essays. Yet, it is categorized as poetry. Is this relationship to form something that places the book in the New Narrative camp?

While I'm influenced by New Narrative—in particular, by Bob Gluck, Kevin Killian, Bruce Boone and Dodie Bellamy—I'm also very invested in the Conceptual work of Robert Fitterman, Kenneth Goldsmith and Vanessa Place; and in the work of Language writers like Lyn Hejinian and Leslie Scalapino; and in novelists, too, especially Chris Kraus, Kathy Acker and Michel Houellebecq. Most of my influences come from outside of poetry, from artists and critics and novelists. Poetry can be anything you want it to be. That's what makes it compelling to me as a medium. My work is essayistic, novelistic, speculative, theoretical and so on because poetry allows you to be all these things at once.
Durbin talks a bit more about Killian further in:
"Love is the only shocking act in life," writes Sandra Bernard in her 1993 book of essays, Love, Love, Love, and it rang true for me when reading Mature Themes. I audibly gasped when I read the passage on endlings and love: "I love these endlings and hope that love, within its power can restore them to life. Or it is love, I think, that allows the future to finally emerge out of linear time in order to bring us back to the starting point." I feel like it is brave of you to write about love.

I suppose those particular lines are meant to read as doubt that love—or, rather, the flimsy feeling associated with popular environmental movements—can halt the very real, very mechanical capitalist-industrial enterprise that is literally destroying the world. Love, which I feel so strongly for the millions of species now committed to extinction, can't do anything of the things that I say it can, can't "save" anything, can't reroute time in order to give us more. The piece you quote, "Warm Leatherette," is mostly concerned with how we conceptualize an alternative relationship to environment, especially in relation to anger and death as they are experienced in media. I don't think love is very good for that. I used the piece to explore Dennis Cooper's famous statement, "AIDS ruined death," which has haunted me since I first encountered it on the back of Kevin Killian's Argento Series. A lot of my book is a way of redoing what Kevin did with that back text.
Read the rest of Andrew Durbin in conversation with Theodore Kerr at Lambda Literary.