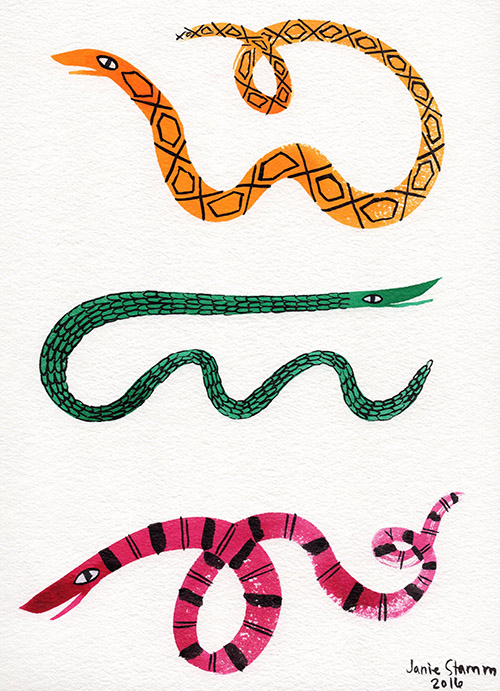 Three wriggly snakes wound up on Poetry magazine's December cover after a visit to my local street fair, Edgewater Arts Fest.  I was wowed by the many snake paintings, snake sculptures, and glow-in-the-dark snake buttons I found in booth #21. And after learning that the artist Janie Stamm has been creating a snake-a-day since late 2015, we knew we were in luck. (I'm reminded of Noah Scalin's skull-a-day, from which we got "#60 Flower Skull, 2007" for our December 2007 cover.) We asked Stamm to share some more work and talk about the project as well as her background and any upcoming shows. Stamm says:
I'm originally from South Florida (Pembroke Pines to be exact). Growing up in Florida had a major influence on my work. Most of my creatures, especially the snakes, are inspired by the animals I saw on a daily basis. I'm fascinated by the creatures others seem to be afraid of or don't understand, like snakes and alligators.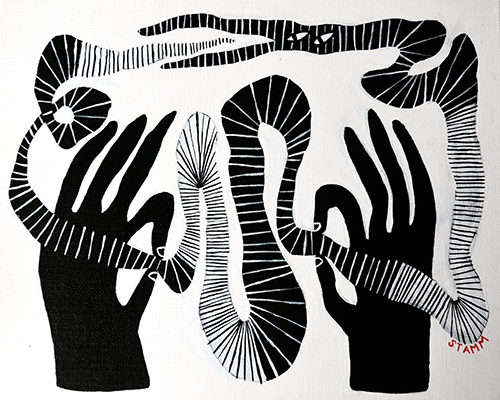 I started drawing snakes back in high school. They became more sophisticated when I got to college. I started the "Snake a Day" (#janiessnakeaday) project to help get myself out of a two-year art rut. It was incredibly frustrating having artist's block for such an extended period of time. I had to do something! I wanted to do a drawing-a-day project to encourage myself to be creative everyday and be able to show that work off. I have always enjoyed drawing snakes...their bodies can do some amazing things and create some bizarro shapes! And posting it to the internet made me hold myself accountable for my work. It forced me to draw on days where I might not have out of laziness or being tired.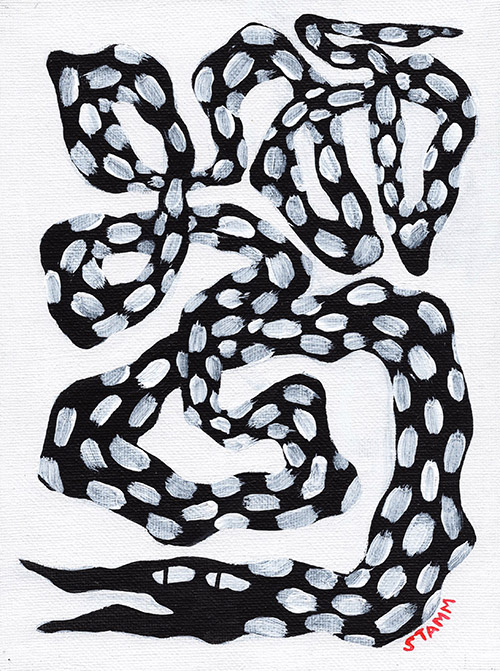 This past spring I went back to Florida for three months. I spent my entire time traveling the southern part of the state. I took a day trip to Key West and noticed that the island was covered in tiny, brightly colored wooden houses. Each one was a different tropical or pastel color and I knew I had to incorporate that into my work.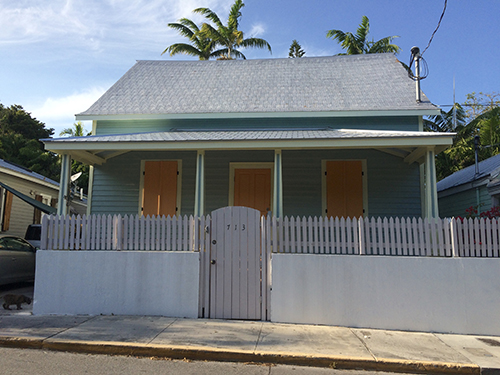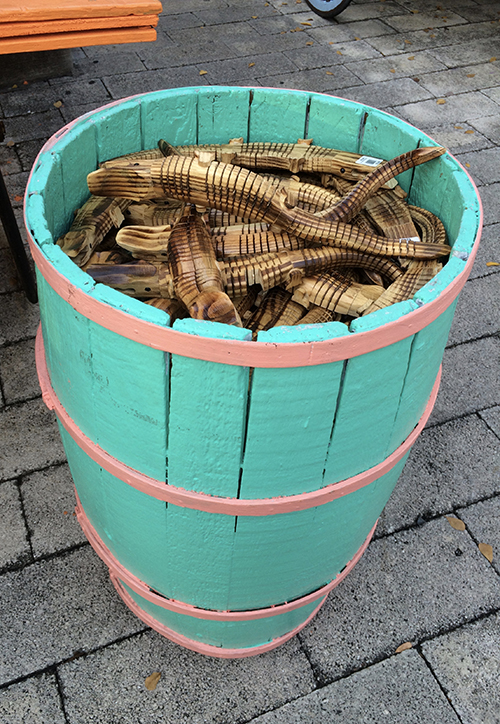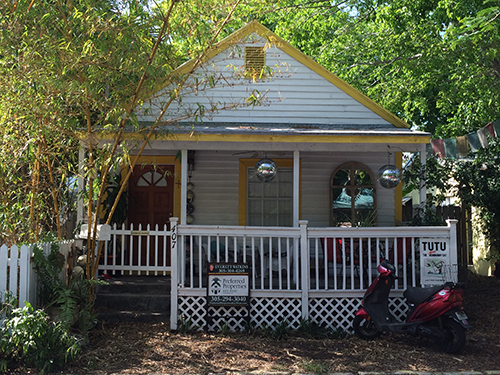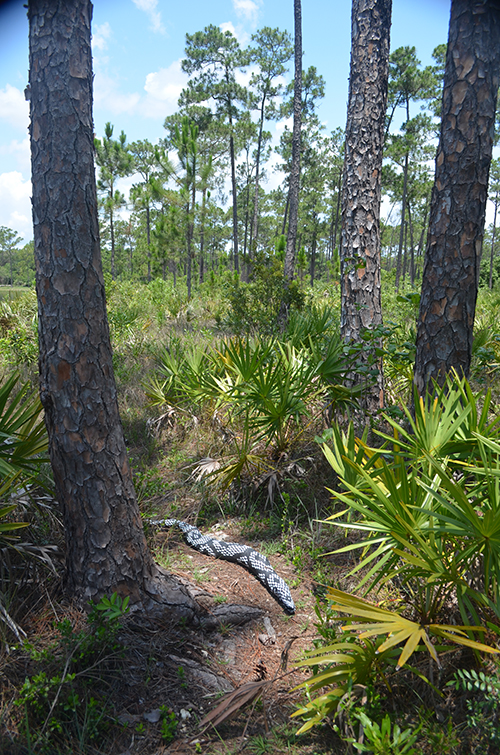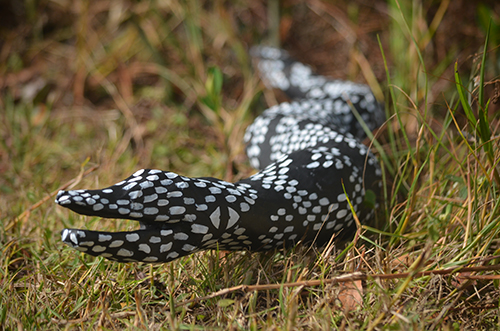 My inspiration comes from many different sources. The most prominent source for my color snakes has to be from mid-century children's book illustrations. Artists such as Cliff Roberts, Virginia Lee Burton, Robert McCloskey, and Herve Moran are among some of my favorites.
The snakes bring me so much joy. When I draw, paint, or print them I feel more at ease. Snakes, throughout history, have had a bad reputation and I'm trying to depict them in a different light. Every time I create a new snake I think: What kind of snake is this? Is it aggressive or is it calm? Should I make its body crunchy look or soft and fluid? I picture the snakes slithering off the page. When people look at my work I want them to feel curiosity and nostalgia. The snakes on the cover are whimsical and are meant to be inviting, luring you in with their magnificent jewel toned bodies.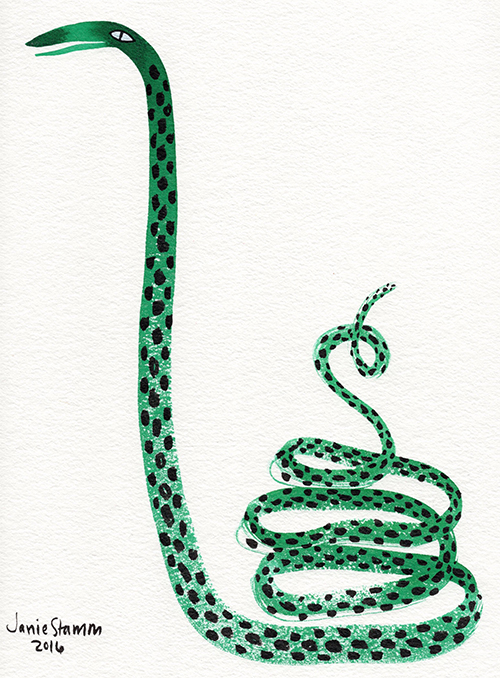 My colorful snakes are all done using watercolor. I add details using a brush pen.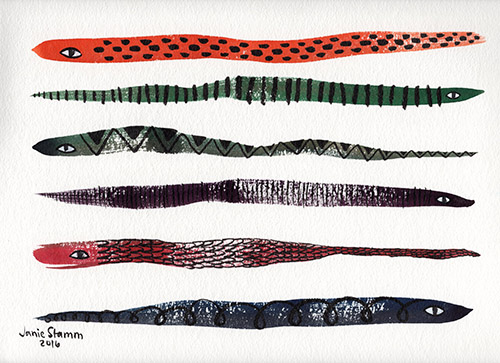 I have a few upcoming shows—a group show at Chicago Printmakers Collaborative on December 3 and 4, and a solo show at Oliva Gallery during the first week of February.