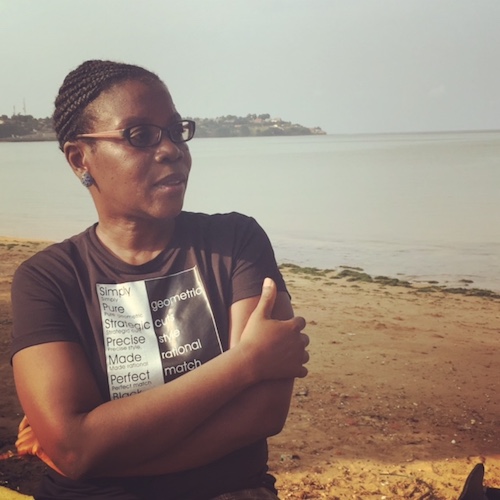 Nestled off the Bight of Biafra, in the Gulf of Guinea, the island nation of São Tomé and Príncipe consistently makes the list of the world's least visited nations. Unlike many of its fellow list members, it is a peaceful, multiparty democracy, with abundant natural beauty and pristine beaches. The second-smallest African nation after the Seychelles, it is also the smallest Portuguese-speaking country in the world. Uninhabited until it was discovered by Portuguese explorers in about 1470, it was then forcefully populated with West African slaves, whose labor enabled the colony's elite to develop the world's most profitable and best quality cacao. Slavery was abolished in Portugal's African colonies in 1869, though life, for the majority of the island's African population, did not much improve. Just over a century later, in 1975, São Tomé and Príncipe achieved its independence from Portugal, the culmination of a movement that had begun in earnest in the late 1950s; since that time, it has remained one of the African continent's most stable democracies.
Relative to its speaker population, São Tomé has produced a surplus of noteworthy poets, beginning with Caetano da Costa Alegre, a precocious poet and medical doctor who died in Lisbon of tuberculosis at age twenty-five in 1890; Francisco José Tenreiro, who began publishing in the late 1930s in Lisbon; and Alda de Espirito Santo, widely regarded as "the mother of the nation," a poet and revolutionary who worked in the Saotomean government following her successful involvement in lobbying for the nation's independence in 1975. I traveled to the country's namesake capital in search of another poet: Conceição Lima, heiress to Aimé Césaire, daughter of Sophia Mello de Breyner Andersen, and contemporary of Paula Tavares. Despite the true absurdity of the category "African literature," representing fifty-five nation-states and over 2,100 living languages, Lima is, to my ear, the greatest contemporary poet from the continent.
It is not easy to get to São Tomé. TAP, the Portuguese national airline, flies to the capital a few days each week from Lisbon, connecting with a brief stopover in Accra, the Ghanaian flag just barely visible on the side of the air traffic control tower in the evening haze. Upon arrival, I descended the metal staircase onto the Saotomean tarmac, and the island's humidity penetrated my sinuses and lungs. A fecund, vegetal scent lingered heavy in the air, and I was reminded of the omnipresent flora of Lima's poetry. The immigration process occurred with leisurely efficiency. Our Airbus 330 was a third of the way full after a significant deplaning in Accra, and my fellow travelers were primarily Portuguese and Saotomean businesspeople, on their way to or from meetings in either location. There was a group of Portuguese thirty-something adventure travelers, a pair of Polish backpackers who struggled to explain their motives for being in São Tomé, an Irish high-end tour guide, and me, the lone American. The immigration official seemed pleased when I explained my purpose for being there. He smiled when I told him I was planning to translate Saotomean poetry into English, and when I said I hoped I'd be inspired to write a few poems of my own, he responded simply, You will.
*
On my first day in town, I ate an omelette at the restaurant across the street from the iconic pink National Palace, with its goose-stepping guards. I had read that the National Archives was one of the only places in the country to buy Saotomean books; that turned out to be true. On my walk down Independence Avenue, I was approached by a man who appeared to be in his early thirties. Though a bit confused about why I would want to visit the archives, he told me I was on the right path, and accompanied me on my walk while smoking Yes brand Angolan cigarettes that he kept loose in the cargo pocket of his shorts. Fábio would become my best Saotomean friend outside of Conceição Lima. The treasurer of the local woodcarvers cooperative, Fábio is a sculptor by trade, but makes most of his income like much of São Tomé's population, arranging whatever deal can be made, whether by direct exchange or commission. A gregarious extrovert, Fábio was well known around town, and soon I was too.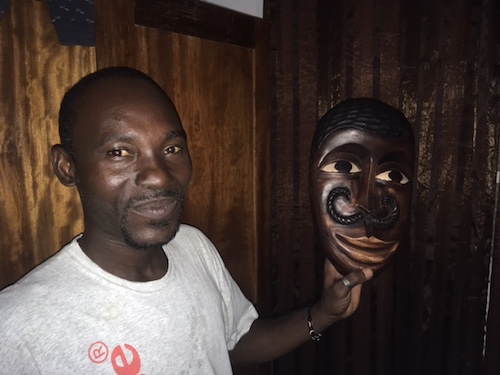 I asked Fábio if he could find a car to take us to see Pico Cão Grande, a 2,175-foot high needle-shaped volcanic plug peak toward the south of the island. He did, and we drove through endless palm oil farms, vegetation thick between the stout trees haloed in fog, which reminded me of an eerily orderly version of the Jurassic Park landscape. After almost two hours, we arrived at a small stream that cut through the plantation and offered a direct view of the peak one kilometer away, which resembles an enormous Giacometti sculpture, rising to altitude from the flatlands around it like a nail hammered upward through the earth, its top third shrouded in perpetual fog.
As we drove back into the city, Fabio pointed to the clouds, which suggested an impending storm. It's not going to rain, he said. Not while the tide is out. The clouds can get as dark as you can imagine, but it won't rain. As he finished telling me this, a raindrop bounced off the windshield.
What's that, then? I asked.
That's sprinkling, Fabio said, like I'm crazy. I mean it's not going to rain rain. Rain hard. Within a few minutes the streets of the western side of the city were flooded and we couldn't see the street through the windshield. Fabio kept driving along, and we curved around the bay next to the boardwalk that runs its length. We were headed toward the island's center now, to see the decrepit plantation at Monte Café. Once the epitome of cacao production technology, those facilities are, like many of São Tomé's colonial era buildings, abandoned rather than repurposed, its vast acreage now inhabited by the descendants of the West African slaves that harvested and processed the cacao beans.
The primary cacao processing warehouse was eerily vacant. Walled and roofed with unpainted wooden planks, the barn-like structure featured a miniature rail line that allowed its unpaid laborers to roll vast amounts of raw produce through the belly of the cavernous facility. At the top of the warehouse, there was a small house that must have belonged to the Portuguese foreman. In faded green and yellow paint, its label read "1914" and "Tecnología." Today the plantation produces a small amount of robusta coffee. I am reminded of several lines of Lima's poem "Afroinsularity," which have haunted me since my first reading them:
They left the island a legacy
of hybrid words and gloomy plantations

rusted mills breathless sterns…

…

And there were living footprints in the slashed fields
like scars—each coffee bush now breathes a
dead slave.
*
Though my initial plan had been to use the time afforded to me by my National Endowment for the Arts Fellowship to work with Conceição Lima on the translations themselves, it soon became clear that our time together talking about poetry, politics, and life was far more valuable for both my project and my person. I would spend the morning exploring the city, looking for the herbs and vegetables and landmarks mentioned in her poems—the living statues, with "pensive hands and clay on the soles of their feet," and we would meet in the early afternoon to drink coffee, smoke Angolan cigarettes, and talk.
We tried to make sense of the political situation in the United States, where President Trump was just days from being installed in his new position, we shared poetic obsessions and occupational frustrations, and we occasionally recited lines of poetry: Espirito Santo, Nicolás Guillén, Raúl Zurita. I confessed to Conçeicão that many of the early revolutionary poets of Lusophone Africa—Amílcar Cabral and Agostinho Neto, for example—struck me as greater sloganeers than poets. I understood why that would be important given their context, that poetry held a political utility in the popular dialogue that was distinct from my own culture's. Of course poetry is intrinsically political, because language is a political instrument, I proposed, but perhaps the function of their poetry required that their revolutionary message overwhelm their poetics.
Conceicao agreed. Most were not great poets, she said, but they had written some great poems. She recited Cabral's first published poem from memory; its meter suggested the patter of rainfall:
Mamãe Velha, venha ouvir comigo
O bater da chuva lá no seu portão.
É um bater de amigo
Que vibra dentro do meu coração

Come, Ol' Mama, let's listen
To the beating of the rain against your door
It's the patter of a friend
That shakes within my core
Then she paused as if to consider something, and added, Poetry is not just political. You're right, but you do not go far enough. Sophia Mello de Breyner Andersen said that the poetic act was not just a political act, but a revolutionary one.
In the moment, the idea seemed like an unnecessary clarification, an exaggeration, even, and I let our conversation flow without interrogating it further. But of all the conversations we shared over the course of our twenty days together, and among the many things I learned and the many images I've carried home, that simple idea—that the poetic act is revolutionary—remains at the forefront of my consciousness, like a mantra. The idea strikes me as particularly important in today's environment of "fake news" and memes and tweets. In an era defined by the degradation of objectivity and the cheapness of speech, the attention that poetry pays to the importance of the word is indeed revolutionary.
*
My last day in São Tomé coincided with the Women's March on Washington. Conceição and I walked down the city's boardwalk, discussing protest in the United States and São Tomé, speculating about when we would see each other again, and when her book might come out in English. Just before reaching the beachside chapel where the city's fishermen would return with their catch in several hours, we turned to stroll back to the city center, so I could gather my things and head to the airport. As we walked along the sidewalk, beside the rusted-out hulls of small commercial fishing vessels and a line of retired dugouts, beached like slender wooden whales beneath the palms, a man who appeared to be in his late seventies, perched on the intermittent concrete railing of the footpath, stopped me when I greeted him.
You're the American from the television, right?
I was. I had appeared earlier that week on the country's morning program for an interview about my work there, complete with a musical act as intermission. It had since been re-aired several times.
What do you think of Caetano da Costa Alegre?
Honestly? I don't know his work well. But I did get his collected poems while I was here, and I look forward to reading him.
He died very young. He seemed to be contrasting the poet's youth with his own old age.
How old? Was he in his forties?
No, younger. Twenties.
Wow. Younger than Miguel Hernández.
How old are you?
Thirty.
Young. Do you know Langston Hughes?
His work? Yes. He is a great poet. We need him now.
Do you still read Du Bois in America?
Not enough.
You should. Do.
*
Fábio took me to the airport in a taxi and we waited for Conceição, who had promised to say goodbye and give me a rare book from East Timor to complete the library of Lusophone diaspora poetry that she had gifted me from her personal collection, each inscribed on the title page with her own name in cursive. In the airport parking lot, we said our goodbyes amidst salesmen peddling waxy flowers for export and taxi drivers awaiting fares. As a gift, Conceição also gave me a pack of YES cigarettes, though she had promised to stop smoking once I leave, along with the book by Fernando Sylvan, a Timorese poet who died in his late seventies in 1993, six years before Indonesia relinquished its claim on the territory of his birth.
We don't say goodbye, but we do share a long embrace at the airport's doorway, and I tell Conceição that I love her. A translator's love comes from having inhabited a poet's language, from having held their words in your mouth and stretched them out and shrunken them, to have torn them apart and patched them back together, to fit your tongue. It's a friendship rooted in the untangling and re-spooling of thought and syntax, grounded in an appreciation of both the image and the technical apparatus used to capture it. It's an intimacy that I've felt with few others—I think of Mario Bellatin, Víctor Terán, and Marcelo Ensema Nsang—and, like the act of writing poetry, it too is a revolutionary act.
*
As the plane cuts northeast across the cloudless sky toward Accra, in the few moments before the deep blue of the Gulf of Guinea is replaced with the dusk-lit greens and browns of continental Gabon, I come across a poem in the book that Conceição just gave me at the airport. Written by Fernando Sylvan forty-five years earlier in January 1972, and clandestinely distributed through occupied East Timor in facsimile editions, it reads like a rallying cry for engagement within the nation I was returning to, an example of the revolutionary approach to language that poetry demands, and a parting gift from my trip to São Tomé. I translate it immediately, on my phone, in its brief entirety:
Walls

End the wall in Jerusalem
end the wall in Berlin

End the walls there
and those inside me!
All translations by the author
Poet, translator, and filmmaker David Shook was raised in Mexico City. He earned a BA at the University of Oklahoma and an MSt at Oxford University. In his debut collection, Our Obsidian Tongues (2013), Shook explores the violence and hunger of everyday life, steeping his poems in lush imagery and...