The Complete Poems of  James Dickey, ed. by Ward Briggs.

The University of South Carolina Press. $85.00.
I would begin with a word against collected editions — or at least against the current trend of issuing them in gigantic, overpriced formats that resemble the compact OED. You should not be able to stun a moose with anyone's Complete Poems. In recent years, we've had enormous, expensive editions of, inter alios, Robert Lowell, Barbara Guest, Kenneth Koch, Frederick Seidel, James Merrill, Lucille Clifton, Louise Glück, Jack Gilbert, and Denise Levertov. Even so skinny a poet as Philip Larkin, in FSG's recent (and superfluous) Complete Poems, has bloated beyond recognition. I'm all for having these folks' oeuvres in print (although I'd also say a word against the fantasies of totality that compel editors to include drafts, revisions, juvenilia, and the like). But what's wrong with affordable and portable? The Library of America and Faber and Faber, for instance, manage to produce wieldy omnibuses (the former's, admittedly, not exactly budget-friendly). Another world is possible.
This rant was inspired by the University of South Carolina Press, whose 4.2-pound Complete Poems of James Dickey will run you eighty-five dollars. If you have any interest in (and are not writing a dissertation or monograph on) James Dickey's poetry, may I suggest a used copy of The Whole Motion: Collected Poems, 1945–1992, published by Wesleyan University Press, which lacks ninety-three poems published in the USC edition and contains many typos but has the virtues of arranging the poems by individual collection (editor Ward Briggs has printed the poems in order of initial publication) and of fitting in a messenger bag or backpack?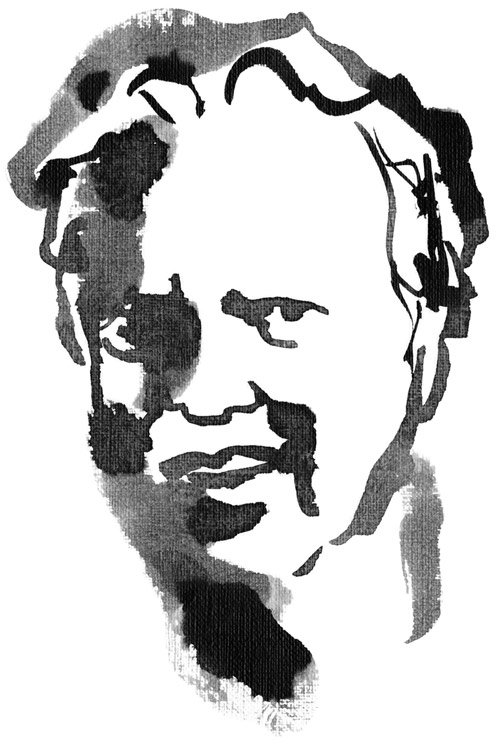 Illustration by Rob Funderburk
So much for The Complete Poems of James Dickey. What about the complete poems of  James Dickey? Reputation is a funny thing. Dickey was once king of the cats — winner of the National Book Award (for Buckdancer's Choice, 1966), consultant in poetry to the Library of Congress (1966–68), author of the novel (1970) and screenplay (1972) Deliverance (but not of the immortal line "I bet you can squeal like a pig"). In the sixties, Peter Davison pronounced Dickey and Lowell the only major poets of their generation (Davison appears to have backed away from this; such are the hazards of cultural prophecy). The poet appeared on national talk shows, wrote Jimmy Carter's inaugural poem, and commemorated the Apollo missions in the pages of Life. In 1976, the Paris Review said his name was "a household word." A sense of the critical veneration to which Dickey was subject can be gleaned from Robert Kirschten's introduction to The Selected Poems (Wesleyan University Press, 1998): "I think you will agree that one would as soon read James Dickey as live." Hmm, let's see  ...    read Dickey; live  ...    read Dickey; live  ...    
It is possible that the relative dim of  Dickey's star since his death is simply a reversion to sanity. But it's also, I think, an implicit recognition that his best poems, as Richard Howard implies in his brief 
foreword to the Briggs edition, are those collected under the title Poems 1957–1967, and particularly the ones published in the last few years of that decade. In the last thirty years of his career, Dickey too often gave full-throated vent to an oracular windiness. Consider these lines from "The Surround":
    Pray, beginning sleeper, and let your mind dissolve me as I
Straighten, upright from the overflow crouch:      pray with all
                                        Your heart-muscle,
    The longing-muscle only, as the bird in its hunting sorrows
                               Bides in good falling — gone
                The gather-voices, and more the alone ones.
                     Pray with the soul-straining of echo

                   Of the lost ax, that the footprints of all
                    Predators, moving like old-stone, like
                Clean leaves, grey and sensitive as willows',
                    Will have left their intensified beauty
                And alertness around you, when you wake,
                     And that the blood and waste of them
                    Will be gone, or not known.      Become
                All stark soul and overreach      the ax in the air
      Now come, now still half-way.
Part of me wants to respond: Whose longing-muscle prays not, as the bird in its hunting sorrows bides in good falling?
But my better angel protests that the artificiality of this register is not inherently ridiculous — that its true fault lies in settling too easily for the bombastic, and it attains to a certain power even so. "Pray, beginning sleeper  ...    as I / Straighten, upright from the overflow crouch" has a satisfying oddity that is undermined by the blurriness of dissolving minds and longing muscles. The trope of death as a form of sleep is shocked into life by the addition of  "beginning," with its ambitious suggestion that the newly dead are initiates into cultic mysteries, with ropes to learn. All stark soul and overreach: that's James Dickey in a nutshell. But you could say the same of  Whitman, or Stevens, or Pound.
•
I fell in love with the poems of Dickey's friends James Wright and Richard Hugo at too early an age, blessedly, to hear how often they sound like the smartest drunk at the bar on any small-town afternoon. I didn't come to Dickey until after I'd been delivered by the good news John Ashbery brings to middle-American poets manqué in their early twenties, and by then it was too late. Reading him again at forty, I'm amused to find my prejudices both confirmed and upended. Flipping from some of the almost priggishly static early work — 
Shines, like a marsh, the sun


On the crossed brow of listening.


He beats his empty hands on his ears, and twists


All around his leg, white, edged gold, sewn flat


Beside a hooded falcon burned in grass.


                — From The Work of Art

— to the war whoop of the last poems — 
                                       Real God, roll
                                                                 roll as a result
Of a whole thing:    ocean:
                                             Thís:     wide altar-shudder of miles

               Given twelve new dead-level powers
           Of glass, in borrowed binoculars, set into

                          The hand-held eyes of this man

              And no other, his second son coming to his head

              Like Armageddon, with the last wave. Real God,
Through both hands and my head, in depth-bright distance, roll
                                      In raw free sharpness.  
               — From Show Us the Sea
— you get the sense someone told him he was holding the reins too tightly and he thought, "All right, then, I'll go to hell." The later poems have a Poundian energy, an arrogance, that can be both daft and charming. But they seem to want to say more than they do — they would speak of final things in thunder but must settle for yelling into a megaphone about next-to-last things. Howard says "Dickey grew too big for mere poetry," but poetry, even at its merest, is big enough for anything James Dickey could have thrown at it. It's rather that his own poetry grew too small for its unruly grandiloquence. Even while acknowledging, with the trope of binoculars, that his eyes are borrowed and too powerful for the scene — the Beowulf poet at the beach — he compares his son's riding in on the surf to the Last Days.
It's in the middle poems that Dickey flashes out into "raw free sharpness." A real god rolls through "May Day Sermon to the Women of Gilmer County, Georgia, by a Woman Preacher Leaving the Baptist Church," a diesel-fumed negative hallelujah of backwoods terror:
Each year at this time I shall be telling you of the Lord


 — Fog, gamecock, snake and neighbor — giving men all the help they need


To drag their daughters into barns.    


 . . . . . . . . . . . . . . . . . . . . . . . . . . . . . . . .


                                          each May with night coming I cannot help


Telling you how he hauls her to the centerpole      how the tractor moves


Over as he sets his feet and hauls     hauls     ravels her arms and hair


In stump chains: Telling: telling of  Jehovah come and gone


Down on His belly     descending     creek-curving     blowing His legs





Like candles, out     putting North Georgia copper on His head

Dickey moves into the sermon form like the devil himself, flicking his forked tongue above the congregants, preaching at full throttle for ten giant pages, his voice never breaking, soaring past country girls "dancing with God in a mule's eye," "the black / Bible's white swirling ground," past an incestuous father "rambling / In Obadiah," past a needle passing "through the eye of a man bound for Heaven," past hogs and quartermoons, an old man "with an ice-pick on his mind, /  A willow limb in his hand," the kudzu advancing, "its copperheads drunk and tremendous / With hiding, toward the cows."
And I would just go on quoting if I could, because Dickey finds in this poem — and in "The Christmas Towns" and "For the Last Wolverine" and "Adultery" and a dozen more — a canvas large enough for his palette. The closing lines of "May Day Sermon ..." are worth a hundred Armageddons:
                                                                 the animals walk through


The white breast of the Lord     muttering     walk with nothing


To do but be     in the spring laurel in the mist and self-sharpened


Moon     walk through the resurrected creeks     through the Lord


At their own pace     the cow shuts its mouth and the Bible is still


Still open at anything     we are gone     the barn wanders over the earth.

•
Dickey remained to the end a votary of that period style that liked its bourbon neat and its hawks locked in spiritual combat. "The Surround," Dickey said,
is a kind of elegy for the American poet James Wright, a close friend of mine for years, who feared the change from day to night and the coming of the predators, when the whole climate of fighting in the animal world changes to that of prey and predator, in the dark: he used to say that he feared the dark because he feared the change "in the surround." I am telling him in the poem that he is not to fear this any more, for he is the surround; the whole thing good and bad, and that the moon is beautiful on water, and that the tree grows its rings in the dark as well as the light.
This is, on the one hand, sentimental trash, and, on the other, an eloquent deployment of a vocabulary in which Dickey and certain of his contemporaries were so at home that they mistook it for a kind of natural language. Robert Bly, who accused Dickey of macho warmongering, had more in common with him than he imagined.
For all their stylistic differences, these poets shared a somewhat desperate (and somewhat ridiculous) refusal to accept that the cultural authority of the Poet had been eclipsed. If I've lapsed into psychological criticism, it is because their poetry was so often nakedly psychological — a sifting of correlatives of moods and inner states. For Dickey, these were often "old-stone," deliberately archaic, as if the only horses alive enough were painted on the recesses of Altamira. Someone should count the appearances of  the moon — that old bone — in Dickey's poetry. Even now he is crouched beneath it, wrapped in a bearskin and stoned on glory, trying to shape-shift into a wolf.
Michael Robbins is the author of the poetry collections Alien vs. Predator (Penguin, 2012) and The Second Sex (Penguin, 2014), as well as a book of criticism, Equipment for Living: On Poetry and Pop Music (Simon & Schuster, 2017). His poems have appeared in the New Yorker, Poetry, Harper's, Boston Review, and elsewhere; his...