Like the afflicted shadows of Dante's Inferno, I, Blanche Bruce, am also a 
phantom of sorts. Yet, unlike those banished to eternal anguish, I am blessed with mercurial powers that enable me to traverse the boundaries of time, space, and the earthly realm as I please. When ideal conditions arise, I have been known to 
assume the identities of other artists and to infiltrate their imaginations....    Our primary objective is to transform matter into energy, to render material immaterial.


— Terry Adkins, from Shadow of Freedom

Early in 2013, I started a granted collaboration with installation artist, musician, sculptor, etc. etc., Terry Adkins. Only a year later, Terry died of a heart attack. Following his passing, I chose to proceed and continue with work in tribute to his art and its impact on mine — but focused on remembering Terry's alter ego, a figure named "Blanche Bruce" (after the first black US senator elected to serve a full term). That work — an oratorio for voice and digital turntables — is called Freedom of Shadow. But that's not what you'll see here.
Terry was adamant that the text for whatever we ended up doing not be produced as a book. So, in that spirit, I do not present the entire libretto. Instead, I've included some remarks about process and ideas (preemptive ekphrasis?), first drafts from my journals alongside finals, excerpted correspondence, and work deeply influenced by our conversations yet not germane to the oratorio. They collect questions of interdisciplinarity vs. collaboration, side-eyes at modernism, skepticism of Afrofuturism, dogged attachment to bad ideas, working documentation, and the use of "nigger" as verb.
Freedom of Shadow records and transforms the material we actually managed to create in collaboration: our e-mails, conversations, and discussions of each other's work. It presents this discourse as antagonisms and accords, duets, and theatrical environments. The oratorio addresses Blanche Bruce and not Terry Adkins in the main because 
I can only memorialize our interstice of aesthetics and poetics. 
I never got to meet the man, though I came close once, before I knew who he was. Yet ever present since our first conversation are Terry's provocations. They set the polestar of this project. I am grateful for that light, though it blanches and it bruises.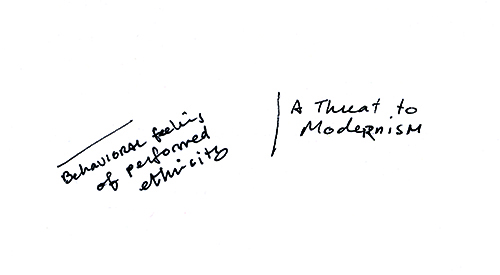 These two notes from our first one-on-one phone conversation have served as mooring. Terry brought these. The left: "behavioral feeling of performed ethnicity," I've come to think of as a kind of superimposed gaze. Perhaps it's a variation of W.E.B. Du Bois's "double consciousness," only the subject has ramped-up his/her ethnic difference in anticipation of the onlooker's attention to it. Say, you are, I don't know, buck dancing in a storefront window, looking at someone looking at you. Yet, you look through your own jigging reflection as you see your audience (which now includes you, performing). I tried to get at this passive and aggressive self-consciousness — I've figured it since with the sense that Terry had antipathy for it — in a piece called "(Ghostmaking) or Ideal Conditions."
The second note, "a threat to modernism," reminded me of a Lincoln Motor Company ad I'd made into my own white whale, described in an e-mail excerpted a few pages from here. I will add however, that considering Poetry's historical nurturing of modernism, the proposition of shitting a bit in the temple was perversely enticing.
On the spread after this: the first and then final draft of a number called "CAMH (On Sight)" — in 2012 I actually saw Terry perform at Contemporary Arts Museum Houston. I didn't realize this until several months after we began our collaboration.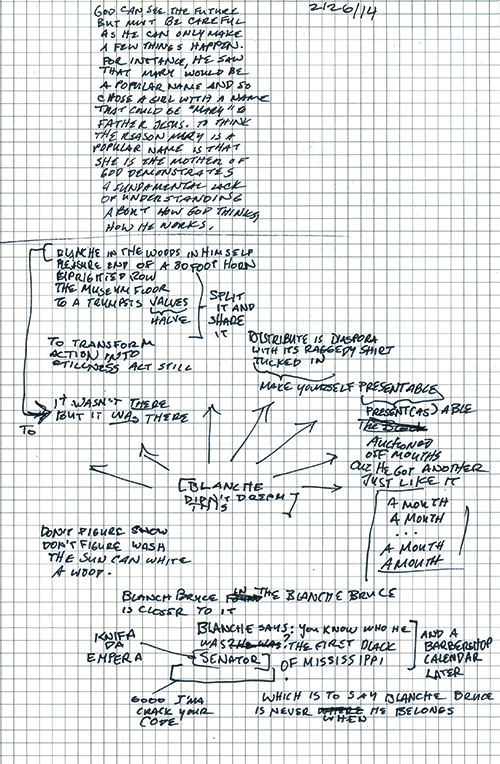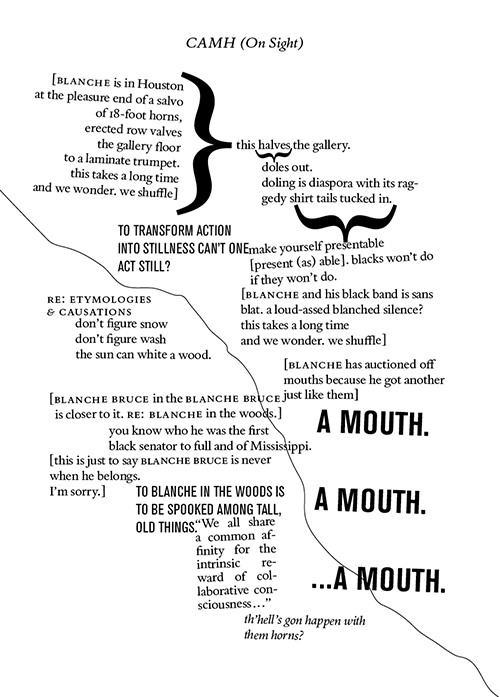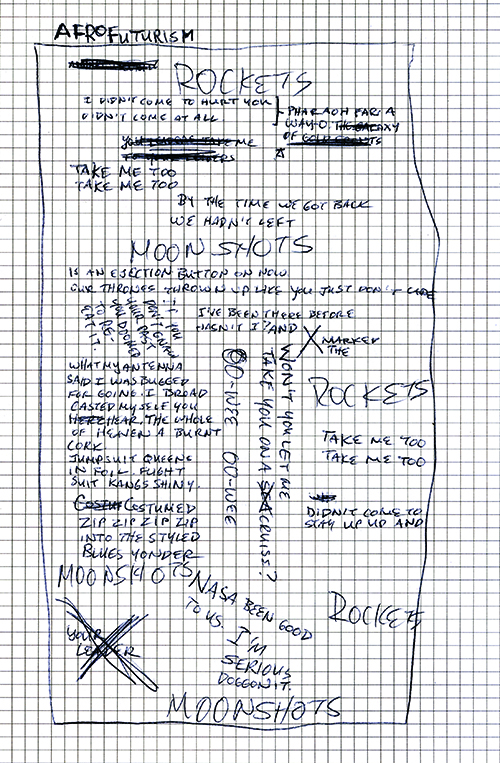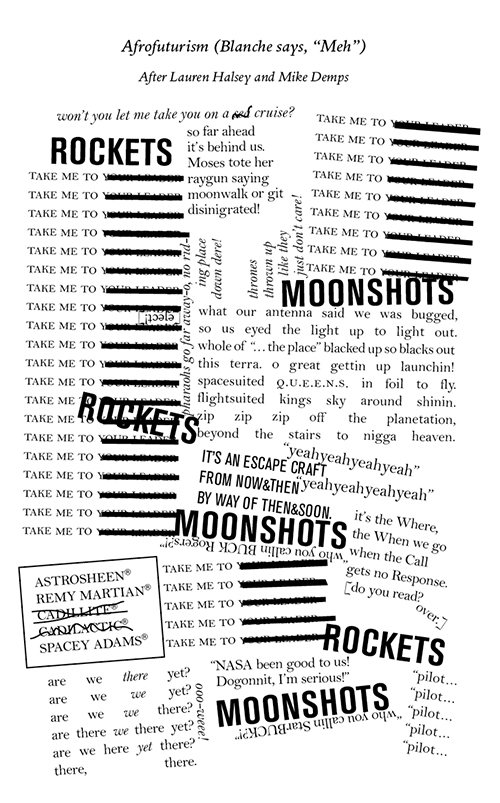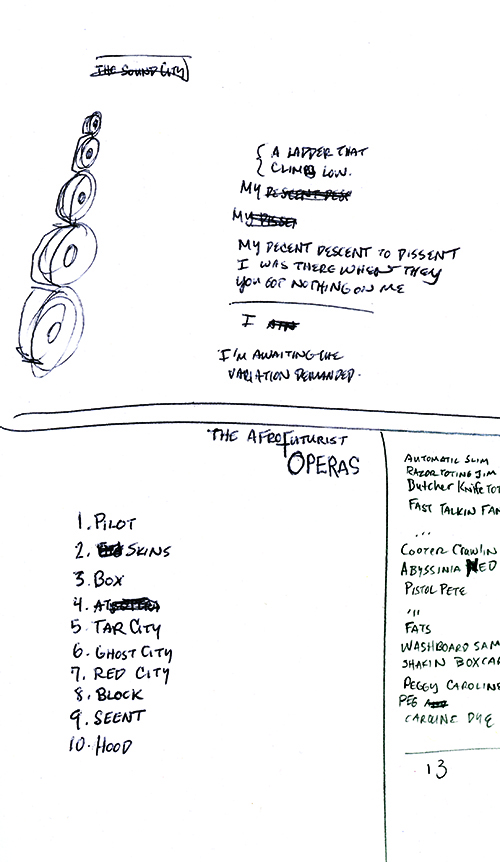 From the outset, I'd set out to propose opera to Terry. It was a shot of his Darkwater installation — which spoked around an obelisk of kick drums (Muffled Drums) — that spoke to me immediately. I wondered what world demanded architecture resembling an acoustic sound system. What soundclash in what yard.
Additionally, I had seen photos of Terry playing what looks like a soprano sax while decked in a shaggy, Sanford Biggers-designed suit and began to imagine what a performance would look like with him all Ghetto Birded-down. What narrative would ground that image.
I was prepping to suggest ten two-page operas like Jig, which I published in the chapbook, SkinMag. Actually started on Skin and Seent before chucking them back in the kettle. I would abandon the opera idea and several others before returning to it.
Plus! At bottom-right, you'll see the list of party guests from Koko Taylor's "Wang Dang Doodle." An unrelated seed for a series.
Also kettled.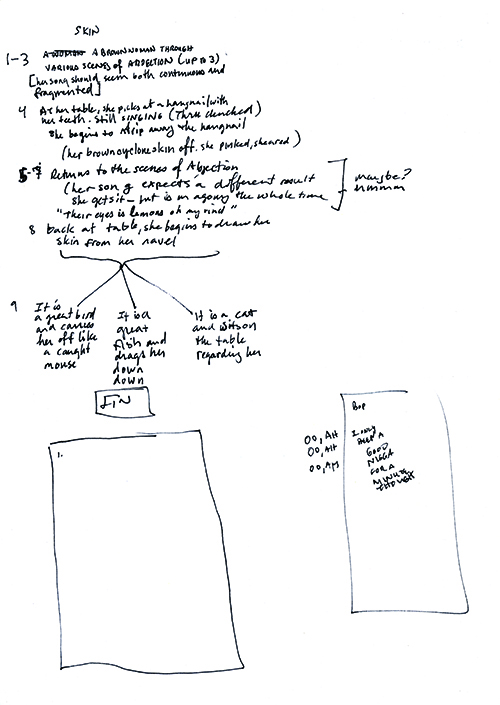 Skin was one of the two-page operas. When I was developing this, I hadn't gotten my mind right for collaboration.
Terry was interested in opera as an idea — but when he asked me where he fit in, I imagined his existing work served as world-building prompts. I would write into his installations, repurposing his sculptures as set pieces and even characters, then, he would create production-style sketches to flesh out the speculative production. Performance would be me on vox and maybe some electric drum patterns (beats, beats, beats), and him on horns.
This wasn't a terribly compelling way of working together. Our processes wouldn't be challenged enough by the arrangement. I would essentially be writing ekphrastic poetry, a fine thing, but I find myself arguing that when a poet not only responds to an artist's work, but is in dialogue about new work with said artist, ekphrasis seems inadequate. A kind of lyric stenography of meeting minutes. Why write a dialogue between the poem and the object (collaboration) when they can be fused, interwoven?
The trouble with the way I think of interdisciplinarity — one art form synthesizing another art form — is that it might obviate the need for multiple artists. If you can write, I don't know, a rhetorical butoh, including kinetic butoh may just be redundant.
I found myself stuck. Either I would go ahead and draft, fixing Terry in the role of production artist, or write a kind of preemptive ekphrasis, an ekphrasis for art yet to be (and possibly never to be) created. A fantastic prompt for a solitary writer, but a thorny strategy for collaboration, I suspect.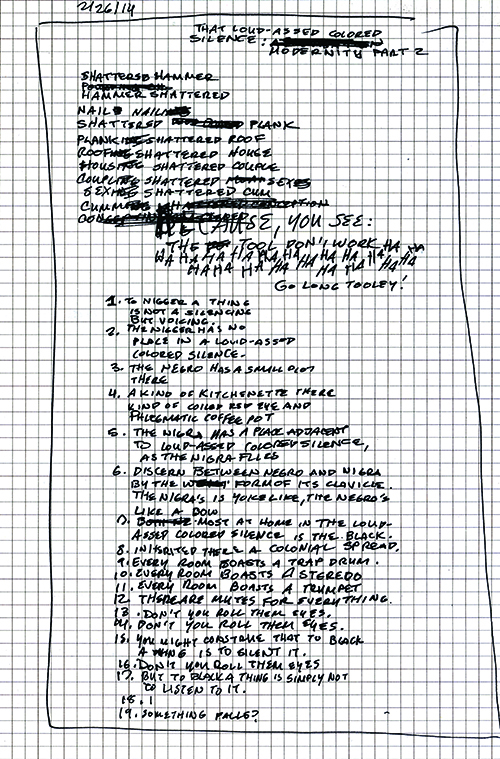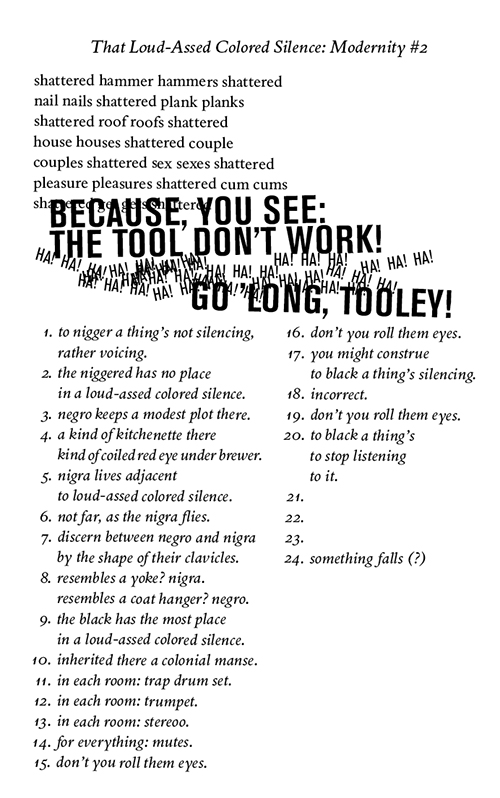 Sent October 8, 2013
Hello Terry,
... I do have a couple of more concrete ideas.
The first: I get that you are less interested in interrogating images. Remember that piece I sent, "That Loud-Assed Colored Silence"? That's something I've been thinking about as a kind of vector of primarily music criticism doubling as a comment about the erasure of black presence (which isn't strictly visual). It combines stuff I've read about jazz (particularly instrumental jazz) and reactions against the black (usu. male) voice in early hip hop, along with the celebration of the contemporary beat music scene (which also often gets rid of the voice). I am ambivalent about a lot of this stuff, but deeply intrigued by what the presence/absence is. Because of course I know that the "voiced" trumpet or dusty breakbeat are still black voices — cyborgish perhaps but certainly fugitive as Moten writes. But there's an intraracial class thing there as well.
Your drum tower and other metonymic pieces seem particularly interesting to me. On one level, sure, they could act as landscapes for the sonic fictions Kodwo Eshun talks about. But I also appreciate how they signify even with their absences and abstracting (not necessarily abstraction).
Since you mentioned illustrating short poems (both of my ideas approach this strategy), perhaps you might imagine the erasure/obfuscation of black subjects/signifiers/presence from sonic contexts and render those? I think there's a modernist critique possible there. How black folks are modern if they're cool and NOT talking? Have you seen the Lincoln commercial where they have a suited black man in a car factory playing drums (:31) all among that robotic new labor? Ain't he free? That shit is romantic modernism, nostalgia, even as it comes in a fragmented anachronistic image-filled commercial. Anyway, that's one.
The second is a little more episodic, but because we have a quicker publication timeline, it could be interesting. These would be shorter pieces, a la Harryette Mullen prose poems that are short bits of media criticism — contemporary stuff, ripped from the headlines. Twerking, Twix commercials, zombie obsessions, urban dance films. These could also be illustrated.
Thoughts,
DK
On October 11, 2013, Terry shot me a PDF via email, excerpted here:
Funny you should mention visible/invisible. Please find attached a book that just went to press in Ravenna, Italy by my alter ego döppelganger Blanche Bruce, named after the first Black senator to serve a full term. He represented Mississippi after Reconstruction. Give it a read and you'll see that we're on the same page. Perhaps photography is a more viable alternative than sculpture ... Still want to do the live thing too ...
The book, Shadow of Freedom, collects a number of photographs, many featuring Terry Adkins as Blanche Bruce — black-cloaked and capped — in what seems a freeze-dried landscape. He leaps a rut into a field. He stands in a doorway. Even in images without him, I thought I saw him, over there in the cut. The architecture's crooked shadow the same angular shape of his cape, a barn door ajar, scrub pipping hard land, there, yes? There? Haunting it all. Most importantly, the book contains an essay Terry wrote from the Blanche Bruce persona's point of view.
I mentioned earlier that Terry didn't want a book. Rather, he wanted a folio, a box full of papers, unbound, asequential. He had also mentioned, in a phone conversation, the generative power of a hoax, and even detailed one about George Washington Carver.
By the New Year, I had finally figured out what to do: document Blanche Bruce, perhaps forge accounts, surveillance reports, folksongs, clippings. A counterfeit dossier of sorts. I reckoned the poetic impulse would be at a macro-level — I would ask, in essence, whether the dossier were vehicle or tenor of Terry's aesthetics organized in the character of Blanche Bruce. Or, perhaps, it would be a philosophical/aesthetic process of engaging immaterial material (false documentation) to materialize the immaterial (a persona). I imagined that making this would require a series of interviews with Terry. He would become, I figured, the writer. I would become — through having to design a number of credible bits of ephemera, tear sheets from imagined glossies, etc. — the visual artist.
The live thing could be an oratorio, a narrative linking the dossier's collage. This was my last idea before moving into some word-and-picture jive. We had a soft deadline approaching and I wanted to nail this proposal, to make Terry excited about it. I planned to do a mockup of several parts so I could show what I was talking about.
A couple of weeks later, Terry was gone.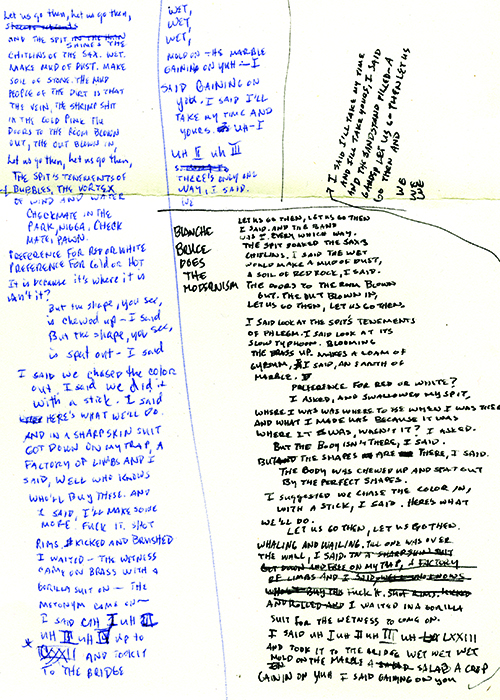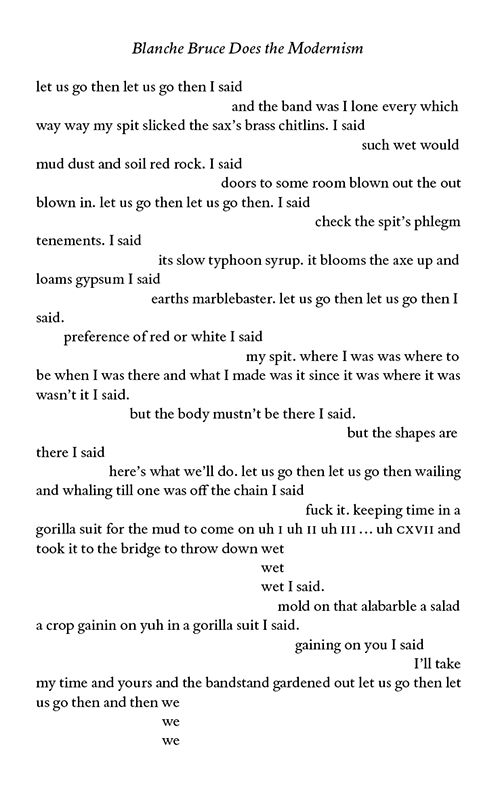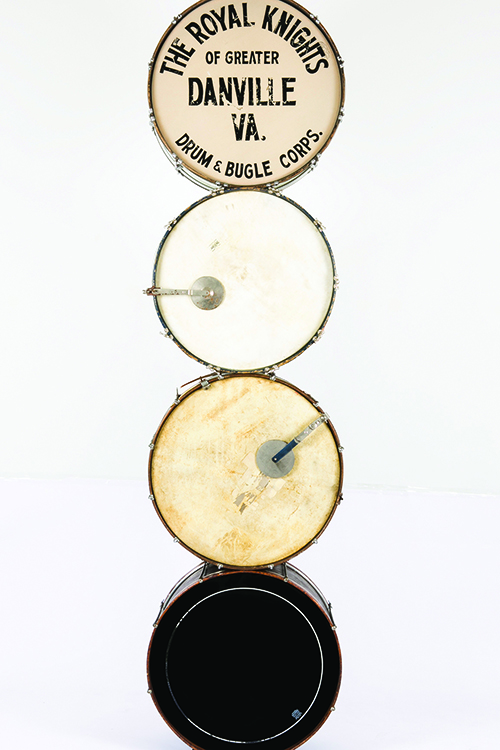 Terry Adkins, Muffled Drums, 2003–2013 (detail), bass drums, mufflers. Collection of Tate Modern. Image courtesy of the Estate of Terry Adkins and Salon 94, New York.
Poet, performer, and librettist Douglas Kearney grew up in Altadena, California. He received his BA from Howard University and his MFA from the California Institute of the Arts, and is also a graduate and fellow of Cave Canem.   In the Los Angeles Times, poet David St. John observed, "What...