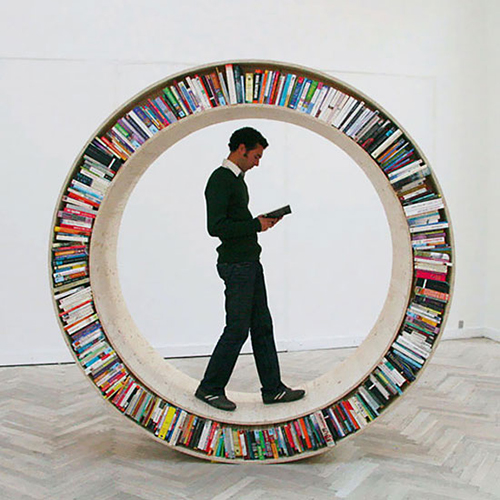 The Reading List is a feature of Poetry magazine's Editors' Blog. This month contributors to the May issue share a book—or several—that held their interest recently.
Daniel Borzutzky
Cecilia Vicuña gave me a copy of El Zen Surado (2013). These poems were supposed to be published in 1972 in Chile, then history happened and they disappeared. They've reappeared, and they are awesome with bits of caca and the first poem is dedicated to a hummingbird that flew into the window of Cecilia's parents' house in 1971.
On page 245 of Joyce Mansour's Essential Poems and Writings, translated by Serge Gavronsky there is a pigeon whose beak is "rubbed out by an evil wind. "  And on 241, in "The Dead with Dog Heads," our narrator knows "the dead silently fuck once more learning how to suffer/when the moon sticks out its prick with eyes of rain/they move in their wounds turn."
Speaking of moons, Kim Hyesoon's Sorrowtoothpaste Mirrorcream translated by Don Mee Choi, asks: "Where do you want to be when you die?/I'm going to be something that has no borders/A place where the moons rise continuously continuously/A place where teeth poke-poke out."
To speak of teeth we must speak of Mexican poet Valerie Mejer's Rain of the Future (translations by A.S. Zelman-Doring, Forrest Gander, and C.D. Wright).   "I'm a prehistoric animal," writes Mejer.  "How can be dead and neither rotting nor stiff?" Answer: "The girls lose teeth that they gift to their tiny warriors."
"I left the organs on the jar, grabbed my camera, threw on my boots without socks and went out toward the prison bureau," writes Cuban poet Marcelo Morales, in a translation by Kristen Dykstra from his The World as Presence, published in Circumference online.
Have you read Urayoan Noel's Los Dias Porosos (2012)?  Have you read Shane McCrae's Blood (2013)?  Have you read Sarah Fox's The First Flag?  Have you read the latest issue of Mandorla? 
Here's a bit of my translation of Raúl Zurita's "The Country of Ice IV," from ZURITA (2011), a book I cannot stop reading: "Frozen flesh hanging in the meat lockers/men, torsos, faces…/Hanging from the hooks just like animals/before being butchered; the white/streaks of fat like clouds against the red of the flesh, the truncated neck, the stumps of legs, the almost human forms of the cattle. And at the Inferno: ship cellars strewn against the icebergs." To be published in The Country of Planks (Fall 2014, Action Books).
Marilyn Chin
I just came back from performing at a PSA event at the L.A. Downtown Library called "The Voices of Women in American Poetry." While preparing for the event, I binge-read The Collected Poems of Ai, The Collected poems of Anne Sexton and the Selected Writings of Gertrude Stein. What a wondrous gift to be able to take time to contemplate the poets' entire journey and to be able to trace their evolution in both style and subject matter…and to remember the historical and social context that informed and inspired them.
So, herewith, I challenge all poetry lovers to stop binging on good telly…back to back episodes of  "Madmen," "The Game of Thrones" and "Scandal" can wait! Instead, I urge you to rediscover your inner nerdy poet, and binge-read the tomes of great poets.
For May, I am embarking with the life work of three American greats: Gwendolyn Brooks's Blacks.  Adrienne Rich's posthumous Later Poems Selected and New, and William Carlos Williams Paterson and The Collected Later Poems.
I am also delving into the collections of Wang Wei and Li Ho (very, very slowly in Chinese).
My boyfriend Vladimir and I are reading Akhmatova together--he wields his heavy Russian dog-eared copy and I am armed with the Hemschemeyer and Kunitz translations.
For criticism: I am relishing Thinking its Presence: Form, Race, and Subjectivity in Contemporary Asian American Poetry by Dorothy Wang.  This is a very important scholarly book; and hopefully, it will help readers unpack the rich complexities in Asian American poetry.
As for fiction: I have Bulgakov's The Master and Margarita and Pamuk's My Name is Red sitting fatly on the coffee table.  And I have been trying to finish the remarkable Chinese classic Dream of the Red Chamber for ten thousand years.
Joshua Corey
I read some books fast and others very slowly. One of my current books fit both categories: almost ten years ago I found a copy of The Magic Mountain in a cabin my wife and I were renting while attending a wedding in western Massachusetts. There was a fair bit of downtime—it was cold outside and we took full advantage of the wood stove—and I read to just about the dead middle of this very long novel before the weekend was over and I had to return it to the shelf. Now, a decade later, I've found myself a copy of the exact same yellow mass market paperback, and after starting again from the beginning in a week or two I've almost reached the point where I left off in Massachusetts. Proust, that's another slow one; I ripped through Swann's Way last year after what felt like decades of false starts, then tumbled halfway into the second volume before slowing to a crawl. For my current writing project, a kind of fantasia on the romance between Martin Heidegger and Hannah Arendt, I am rereading The Human Condition and picking my way through Rüdiger Safranski's biography of Heidegger, Between Good and Evil (I like the German title better: Ein Meister aus Deustschland). Very slowly indeed am I savoring Laszlo Krasznahorkai's darkly shimmering love poem to the artistic impulse, Seiobo There Below. And I have just acquired the new California edition of the complete poems and plays of Robert Duncan, which I intend to read or reread cover to cover; it will probably take me nearly as long as the Proust.
On the fast track there's Jane Gardam's 1985 novel Crusoe's Daughter, a brilliant and sly recapitulation of the history of the English novel with all the trimmings, right down to the orphan with a mysterious benefactor and the eccentric, Brontë-esque narrator-heroine (it reminded me strongly of my favorite Brontë novel, Charlotte's Villette). It made me weep in the end. I read it in three days, mostly on the train to and from work, where I read many books, a number of them free copies placed by the Lake Forest Public Library in a rack at the train station. I devoured Masters of Atlantis, by Charles Portis, and I've torn through any number of mystery novels penned by the two MacDonalds, John D. and Ross. So far no poetry, unless you count a stray recent issue of The American Reader which featured gorgeous poems by Ann Lauterbach, including "Invocation," which doubles down on Stevens's ice-cream emperor: "Bring the huge vernacular. / Bring trysts of jealous / gods and a girl changed into a tree…. / To whom does the poem speak? / To whom is it speaking?"
Cynthia Cruz
1. I have been gobbling up the writings of Italian philosopher, Giorgio Agamben. My most recent reading has been Profanations, a collection of essays about, among other things, memory and oblivion. My favorite piece in the collection is titled, "Magic and Happiness" and is "about" magic and childhood and the sorrow that accompanies the loss of magic when we leave the kingdom of childhood. He begins this essay with an enviably amazing start:
Walter Benjamin once said that a child's first experience of the world is not his realization that "adults are stronger but rather that he cannot make magic." The statement was made under the influence of a twenty-milligram dose of mescaline, but that does not make it any less salient.
2. A book I've long since finished but keep compulsively returning to is Marguerite Duras's Writing. The book, a mere 47 pages. In this volume, Duras delves deep into the small death of her psyche and drags jewels and pearls of wisdom back up with her. I am currently at work on a series of essays on Duras. Some of my favorite lines from Writing:
"You can speak of a writing sickness."

"One must be stronger than oneself to approach writing; one must be stronger than what one is writing. "

"Around us, everything is writing; that's what we must finally perceive. Everything is writing."
3. Finally, the third book that has been haunting me is Pierre Hadot's Philosophy as a Way of Life. In the book Hadot, a French philosopher who died in 2010, introduces the history of the Spiritual Exercises. After being assigned a chapter from this book in one of my classes (I am currently studying Art Criticism & Writing at the School of Visual Arts), I bought the book immediately along with various other works including, of course, The Spiritual Exercises by St. Ignatius of Loyola. What I love about the exercises is the specificity of them. In the exercises one has a concrete means by which to examine one's self and one's life. In his book, Hadot writes of philosophy:
It is a conversion which turns our entire life upside down, changing the life of the person who goes through it. It raises the individual from an inauthentic condition of life, darkened by unconsciousness and harassed by worry, to an authentic state of life, in which he attains self-consciousness, an exact vision of the world. Inner peace, and freedom.
What could be better than this?
Ian Duhig
Nearby Shandy Hall has long been a center for Conceptual Writing in England, with luminaries such as Christian Bök, Craig Dworkin, and Kenneth Goldsmith having held residencies there. Consequently, I've followed their recent projects with particular interest and messaged Goldsmith asking him to post me a copy of the internet when he'd finished printing it off. He hasn't replied yet, which is a bit disappointing. I hope this only means he's waiting for more toner to arrive.
In the meantime, I've been dipping into Broken Hierarchies, assisted by Matthew Sperling's new Visionary Philology: Geoffrey Hill and the Study of Words in the Oxford English Monographs series. Hill was a professor at Leeds University when I was a student there, but I have nevertheless maintained a great admiration for his work. In his study Sperling demonstrates how the etymologies of Hill's rich vocabulary shimmer in harmonics around his chosen words. Hill routinely attracts praise including phrases that begin "the greatest living poet in..." which I will avoid, simply saying that for me, Hill's is an essential figure in contemporary poetry.
I would have mentioned here Impromptus, Michael Hofmann's translation of Gottfried Benn, but I notice that Ange Mlinko does so in the last Reading List; instead let me recommend Anvil's They Came to See a Poet, selected poems of Tadeus Różewicz translated by Adam Czerniawski, as a way into Różewicz's work. He is, as George Szirtes wrote in his recent Guardian obituary, "one of the poets through whom we continue to understand what happened in the last century," a century which continues to breathe down the neck of our own, and not just in Eastern Europe.
Hailey Leithauser
I have become more and more interested recently in the short poem—what it takes for a poem of shorter than say ten lines, or fifty words, to succeed, to have enough meat on it, enough impact, to justify its existence.
In the past few months I've been going through my shelves and rereading examples of these  poems, starting with the timeless and famous— "Western Wind," Basho's frog haiku (in its countless translations)  "In a Station of the Metro,"  Williams's imagist masterpieces, Sappho's fragments—and becoming increasingly aware in the process that many, if not most, of my personal favorites, across schools of writing, have been the poet's shorter,  often less known works—Auden's poem II of the Twelve Songs ("O lurcher-loving collier, black as night…"), Moore's "A Jellyfish," Kooser's "Wild Plums in Blossom," Stallings's "Triolet on a Line Apocryphally Attributed to Martin Luther."
The book that is my current bedside reading is the delightful Novels in Three Lines by Félix Fénéon, translated by Luc Sante. Fénéon, described in the introduction as "invisibly famous," in 1906 wrote over 1,200 terse, three-line news stories, called  faits-divers, for Le Matin. They are marvelous records of daily events during the Belle Époque, funny, tragic, often bizarre tidbits that read more as prose poems than news. Some examples:
"Madwoman Brugnet, of Asnières, pulled into the water,
Petit, who held out a pole: both rescued; in Alfortville,
though, Kovopodski drowned."

"The sinister prowler seen by the mechanic, Gicquel, near
Herblay train station has been identified : Jules Ménard,
snail collector."

"Charles Delièvre, a consumptive porter of Choisy-le-Roi,
lit two burners and died amid the flowers he had strewn
on his bed."
Nothing you can't pick up to read between innings, but that, I suppose, is the irresistible pleasure of them.
J. Michael Martinez
Time Binds: Queer Temporalitites, Queer Histories by Elizabeth Freeman. This gorgeous book makes the argument that historical revision may occur through seeing the corporeal body as a historiographical event; she names this practice of historical revision erotohistoriography.  I love it.
Nudities by Giorgio Agamben. Here, Agamben performed archival research to frame different concepts of "nudity" in relation to the body, the biblical fall, and contemporary art.

Collapsible Poetics Theater and Deck of Deeds by Rodrigo Toscano. Again and again, Toscano amazes me with his deft ability to interrogate poetic practice, transnational economies, gender, and subject formation through addictively beautiful lyric or prose.
This Isa Nice Neighborhood by Farid Matuk. Matuk's lyrics demolish the traditional boundaries of gender, nation, all while implicating the limitations and inequities of a globalized capitalist economy. More importantly, for me, he performs this critique through an opulent verse steeped in a wondrous eroticism.

The Self Unstable by Elisa Gabbert. Wit, lyric intensity and a wildly generous compassion are all aspects of this book of prose (poetry?). With verve, Gabbert interrogates the composition(s) of the "self" through languages dialogical relationship with the beloved.
Farid Matuk
I'm still happily reeling from the first annual Thinking Its Presence: Race and Creative Writing Conference hosted by Prageeta Sharma and Joanna Klink at the University of Montana. I'm reading the books of folks I met there including John Keene's collaboration with Christopher Stackhouse, Seismosis (1913 Press), Don Mee Choi's The Morning News Is Exciting (Action Books), and Kimiko Hahn's The Artist's Daughter (Norton).
In Seismosis Keene responds to Stackhouse's gorgeously frenetic line drawings ("Drawing as thought:// sampling// different concatenations of leisure and need rippling wants// in dissonant scores…") and in the process manages to ring "the intimate summoning/ byway with its unfathomable brightness."
Choi's poems have something to say, too, about where we think light might be. Hers is exactly the cultural work we need to help us stitch together a life out of the various alienations and violent constructions of our gendered, raced, sexualized, exploited, and sold moment. "Stars are whores," she writes, and ends the same poem with a plea to be allowed passage, but we know by then she's already taken us to the other side.
Long since on that other side, Hahn writes poems that double back in a voice that is right at my earlobe.  Her poems never assume intimacy but instead are so finely chiseled, so capacious in their intellectual concerns (necrophilia, among many others!), and so unwilling to traffic in sentimentality that my ear tries to pull in her every sound.  Hahn is one of those poets whose work, I think, crosses all kinds of aesthetic camps and needs to be read by folks everywhere who want the gift of having their attention taken seriously.
Rightfully so, the conference takes its name from Dorothy Wang's Thinking Its Presence: Form, Race, and Subjectivity in Asian-American Poetry. Wang's close readings of poets as aesthetically diverse as Li-Young Lee and Mei-mei Berssenbrugge not only make a convincing case for the ways racial constructions and formal choices are imbricated, they also establish Wang as a leader in a much needed new generation of poetry critics ready to attend to the complexities of what we're making.
Joshua Mehigan
Two poetry collections I've really enjoyed reading this year are The Road to Emmaus by Spencer Reece, and Almost Invisible by Mark Strand. Both are remarkable for many reasons relating to the poets' imaginative and linguistic powers, which are well known. But one novel dimension of both books is that they can be read straight through, from cover to cover, and not only in the more usual, desultory manner people use with poetry and knock-knock jokes.
For a long time I meant to read Don Paterson, but never got around to it until a friend showed me "Two Trees" and "The Lie" in March, and then I went home and immediately bought Rain, which I'm reading still, and which I will continue to read. Over the past couple of months, I've also been slowly absorbing a book called Chains of Snow, a substantial debut by an Australian poet, Jakob Ziguras. "Substantial" is not faint praise. The book is very serious and intelligent, and demonstrates an impressive technical range and sophistication.
In a February 2013 "Reading List," I mentioned that I'd been reading Emily Dickinson. The truth is I will always have been reading Emily Dickinson. But I've also been reading a little Everyman selection of her letters by Emily Fragos, and am about 120 pages into Richard B. Sewall's biography. Her letters are often just as mind-blowing as her poems, and immersion is a quick cure for the insipid cartoon people have made out of her.
I am also still reading John Clare and may owe him my life, as I recently kept myself awake on a long, late drive by saying one of his poems over and over and over again. The poem was "To Be Placed at the Back of His Portrait."
Frances Richard
Bernadette Mayer, The Formal Field of Kissing, intro by Dorothea Lasky, Monk Books, 2011 (originally published by Catchword Papers, 1990).
Unnumbered goddesses
That I or he can invoke
Who shall take the responsibility
For the laundry totally
("Laundry, School & Food Epigrams")
Dodie Bellamy, Cunt Norton, intro by Ariana Reines, Les Figues Press, 2013.
I wake up
and stick part of the round day into thee
("Cunt Emerson")
Fred Moten, The Feel Trio, Letter Machine Editions, 2014.
how to read this is double now. now,
how do we read this? this is what it's for. to claim catastrophe
to rubble for catastrophe.                                                 to turn the world
("come on, get it!")
Andrew Maxwell, Peeping Mot, Apogee Press, 2013.
To small life, the child is ambassadorial, with hiyas to a field mouse,
as though to extend the sure courtesies one cheerfully renews in a
bounded society.
key: Life X
("7.25.10")
Louky Bersianik, Nicole Brossard, France Théoret, Gail Scott, Louise Cotnoir, and Louise Dupré, Theory, A Sunday 1988-2013, intro by Lisa Robertson, afterword by Gail Scott and Rachel Levitsky, Belladonna*, 2013.
The setting is right for the protagonist of this story. She's a writer, drawn by what is veiled, incommensurable to point of "tragic." That word, coalescing on her screen, glitters with irony. She believes, with her friends, that classic narrative is a conduit for patriarchal values, aspiring toward monumental heroes. True, she wants to be huge, casting shadows like Ozymandias on the sand. Or maybe a female Oedipus? A girl Hamlet? Closer, but there's still something about the relationship with the Mother. (Gail Scott, "A Feminist at the Carnival")
Matt Freedman, Relatively Indolent But Relentless: A Cancer Treatment Journal, Seven Stories Press, 2014.
A friend wrote to tell me she dreamed last night that I was selling mud pies shaped like gingerbread men from a stand in a subway station. I don't know why, but that gave me a lift. ("Day 19/Nov. 5")
Michael Robbins
John Jeremiah Sullivan, "The Ballad of Geeshie and Elvie," The New York Times Magazine. Sigh. Sullivan's command in this essay is depressing. The piece itself is a game-changer, a spy novel—whatever you thought you knew about Geeshie Wiley and Elvie Thomas is smoke, including their names. Not that it solves the mysteries that matter most—Wiley's "Last Kind Words Blues" is haunted, always has been, and the distance between biography and magic remains as vast as ever. But as stunning as they are, Sullivan's revelations are secondary to the real achievement here. This is a permanent entry in the American files, a display of vision and style that will fuck up those in the know for generations.
Various Artists, The Rise & Fall of Paramount Records, Volume One (1917-1932) (Third Man/Revenant Records). The so-called Cabinet of Wonder, an objet de l'obsession: hinged oak cabinet, six LPs, assorted documents and books, flash drive as old-timey gramophone needle, 800 tunes, hours and hours of music and context and facts and images and ghosts. A time-capsule of genius courtesy of The Wisconsin Chair Company (also central to the story Sullivan tells; Geeshie and Elvie live here). I haven't stopped dreaming of it since I first heard about it: the above description is all I have, since the set costs $500.
Thomas Piketty, Capital in the Twenty-First Century (Belknap Press). Not the book itself, which I haven't read, but the reviews, all of which I've read—from Paul Krugman in The New York Review of Books to George Packer and John Cassidy in The New Yorker to, well, everyone who writes about economics in every publication you can think of—and few of which draw the obvious conclusion from Piketty's devastating demonstration that income inequality is rising at unprecedented levels (Cassidy: "in terms of income generated by work, the level of inequality in the United States is 'probably higher than in any other society at any time in the past, anywhere in the world,' Piketty writes"). But Piketty himself doesn't draw the obvious conclusion—"we need private property and market institutions," he says, "not just for economic efficiency but for personal freedom." This eternal truth was revealed to him as he gazed upon post-Soviet Romania's empty shops and long lines—apparently his ballyhooed commitment to data-driven research gives way to anecdotal evidence when the thesis requires it. Yes, all we need is a fairer capitalism; it's not inequality as such that's bad, just gilded-age extreme inequality. In other words, we need liberalism, and the lessons of history apply only when they tell us communism doesn't work.
Jacob Saenz
Seam by Tarfia Faizullah: A stunning, powerful and necessary collection. I find the poems in here hauntingly beautiful and achingly human. They are steeped in history and shame and loss but also desire and love. She's a poet unafraid to look at the world and write about it. "The moon filled the dust-polluted sky: a ripe, unsheathed lychee. It wasn't enough light to see clearly by, but I still turned my face toward it."
Hustle by David Tomas Martinez: Another strong debut collection. I identified immensely with the speaker of these poems, a Latino male wrestling with the grips of gangs and family, the neighborhood and the schoolyard, the bravado of boyhood growing into the maturity of manhood. He writes the type of poems I often strive (and fail) to write. "As a boy I died / into silent manhood. // I hid the words / teachers helped me find."
Jennifer Tamayo
For those of us looking to be ventrilo-quizzed by #churnedanglospeak, I recommend Ji Yoon Lee's Foreigner's Folly: A Tale of Attempted Project out from Coconut Books. I read this book on the Q train to Manhattan so I can get fully hollowed out by stanzas like, "When I said my first word, Father English said:/The cow says Moo, but something in this milk ain't clean."  Really, nothing in this book is clean, which I like. a lot.
Or, if you would prefer a state of being always in consideration of immortality, then Monk Books's Death & Disaster Series by Lonely Christopher is a thing.  I suggest reading this book on a one-page-a-day dosage, lest you be okay with a permanently shattered heart (I know I am).  Lonely writes, "I know my father cannot speak/ the culture never gave him words/ they let him drop bombs/ and raise a son."
Those of us DREAMers are splurging on Kim Hyesoon's Sorrowtoothpaste Mirrorcream (translated by Don Mee Choi and published by Action Books.) It would probably be wrong for me to suggest you start with the appendix where Kim will say things like, "The language of poetry is a language of absence, so it goes on the path outside of the conventions of language," suggesting that the death of the "me" in a poem is the "method" for "speaking without speaking" and thus "language comes out, dancing"—but I'll do it anyway. These poems generate a rattle in me—the kind that screams: you are going to die, keep writing.
I'm also reading Chris Kraus's Summer of Hate cuz, you know, June, month of two faces, is around the corner.